Inceptial Scam Review: A Trusted forex company or fraud? 2022 Review
In this Inceptial Scam Review, we will review the most important things that impact your security of funds with Inceptial.
But what is Inceptial? Inceptial is a company that lets you trade CFDs and provides up to 160 trading assets with over 30 trading indicators.
We will talk about:
Regulation of Inceptial
Inceptial licenses
Inceptial.com website security
Funding and withdrawal methods
Trading platform
Inceptial additional services
Real trader reviews of Inceptial
Inceptial scam cases (if any)
Before we go into details we want to tell you that.
Inceptial is not a scam or fraud. It is a trusted forex company. And here is why.
Inceptial Scam Review – Why you should trust the brand.
Inceptial scam review in short:
Licenses of Inceptial: Inceptial is authorized and regulated by the National Bank of Belarus with Certificate Number 19.
Inceptial.com website security: The website uses the most advanced security measures, and includes a very safe SSL certificate.
Funding and withdrawal methods: The funding methods that Inceptial provides are secure. And the withdrawal is fast and secure.
Trading platform: Inceptial uses a very trusted trading platform by the name of MT4.
Inceptial additional services: Inceptial helps their traders maximize their potential and offers plenty of help from their side starting with trading webinars, tools, and guidance.
Real trader reviews of Inceptial: Trader reviews on Inceptial look good and say a lot about their customer care.
Inceptial scam cases (if any): There were found no real scam cases on Inceptial.
Now let's go over these separately and with more details.
Regulation of Inceptial
First of all, Inceptial is registered as a Belarussian investment firm and is authorized and regulated by the National Bank of Belarus with Certificate Number 19.
You can check this on the website of the national bank of the Republic of Belarus. https://www.nbrb.by/engl/finsector/forex/register?
You can either search by the name of Inceptial legal name: Growth Capital Limited Liability Company.
Or their TIN, which is 193301847.

So to answer your question, could Inceptial be a scam? No. Our review shows this even only from this license.
But let's go over the website security in our next paragraph.
Inceptial.com website security
Inceptial.com has an SSL certificate which means that your internet connection is secure and safe and will prevent so-called hackers or internet criminals from reading or reaching your information.
If you see a padlock icon near the Inceptial.com address, that means that the SSL certificate is protecting the website. And it protects your personal information.

Funding and withdrawal methods
The funding and withdrawal methods through crypto are run through the Finrax payment system which is a cryptocurrency payment gateway that is trusted by corporations like Relbilly, IXOPAY, B2BPAY, and MaldoPay.
Regarding Wire transfers and credit card transfers, you already know it's secure because Inceptial is regulated by the National Bank of Belarus.
Another reason to trust Inceptial.com.
Trading platform
The trading platform that Inceptial.com provides is, MT4 and their custom-made WEB TRADER.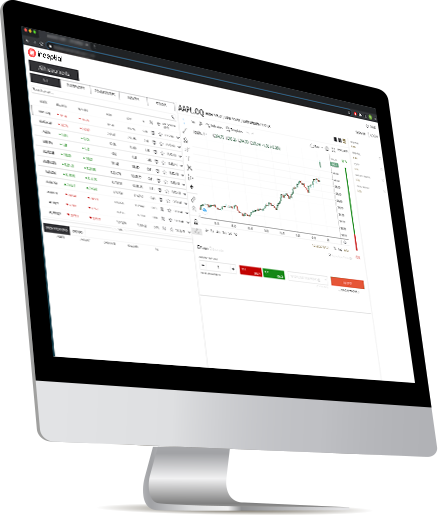 Both of which are very secure.
MT4 is a worldwide trading trading platform that you all know and love.
What is even more important is that MT4 does not allow scam or fraud to use their service.
That is a huge sign of security for you.
And once again in our review of Inceptial you can be sure that your funds are secure with Inceptial.com.
Inceptial additional services
The additional services that Inceptial provides on Inceptial.com are the following:
Trading calculators, that will help you calculate your risk and profits.
Fundamental analysis tools that will help you determine what direction the market should be going.
Push alerts that will notify you of great market opportunities.
Educational materials like eBooks and interactive trading courses.
SMS trading signals.
The personal account manager can assist you with his/her knowledge.
All these services are great for you if you are a beginner trader or a professional trader. Because they fit both ideally.
Its also important to note, that different accounts have different perks to them. So consult your account manager to get the most of your trading experice.
Real trader reviews of Inceptial
Inceptial trader reviews actually look very good. If you visit trust pilot you can see many good trader reviews from real customers.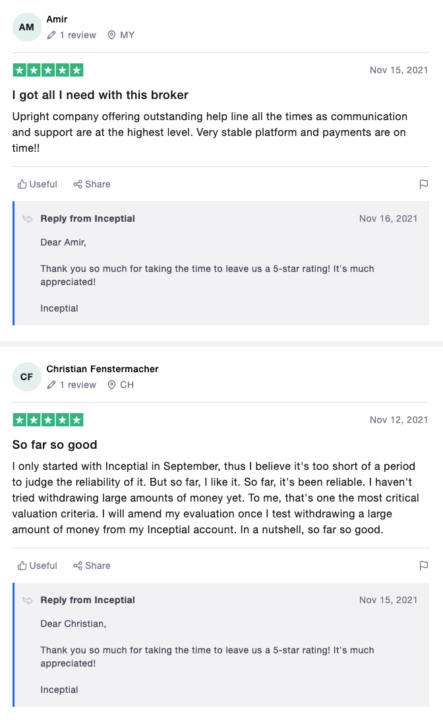 the trust pilot actually looks very good with a total score of 4.4!
69% of the reviews say that Inceptial is: Excellent
20% of the reviews say that Inceptial is: Great
3% of the reviews say that Inceptial is: Average
9% of the reviews say that Inceptial is: Poor / Bad
The ratio of good reviews is 89% to 9 % bad is pretty amazing, considering not everyone profits on the stock market. And most of the reviews regarding the stock market are very negative. Because when a person losses money he is much more likely to complain, than a person that profited.
Inceptial scam cases (if any)
Inceptial scam cases, if you can even call them scam that we managed to find are those: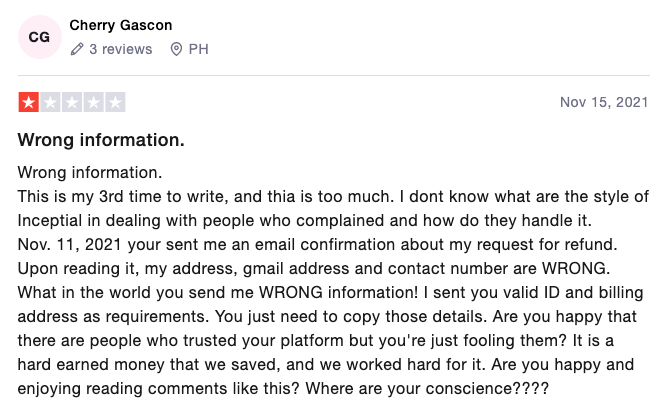 This is actually a case of wrong and false KYC. That people use to launder money and not pay any taxes. Then they are surprised that Inceptial. A company that is regulated and licensed does not allow such a thing.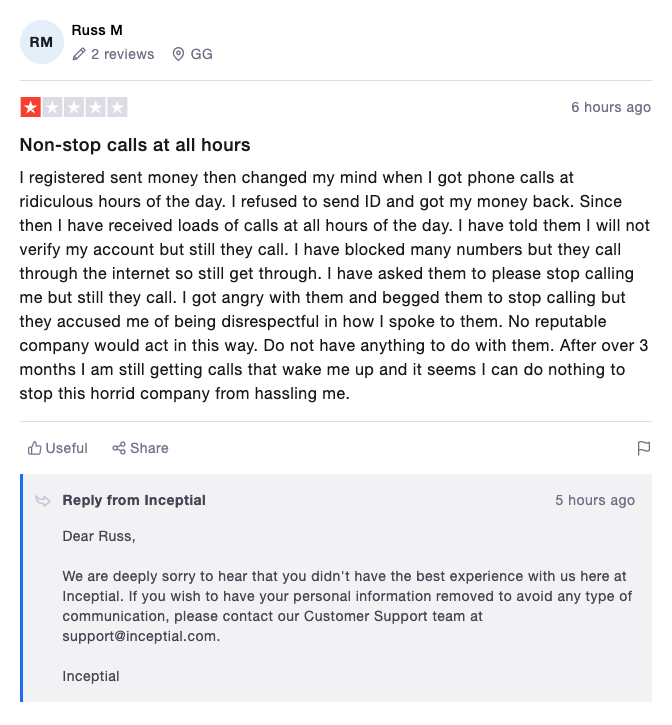 The same thing with the KYC happens here. The client refuses to verify his account. And Inceptial acts accordingly by sending him his funds back.
They probably called him to assist him. And due to maybe difference in hours rang him at night.
We know for a fact that Inceptial or Inceptial.com does not harass its traders.
So we actually take it as a very good sign. Because there is no scam involved.
Inceptial.com wants all their clients to verify their identity so they can legally trade. And in the case where "Russ M" didn't manage to do so, they even send him his funds back. He was NOT scammed or deceived.
Another great sign to trust Inceptial.
Conclusion of

Inceptial Scam Review: A Trusted forex company or fraud? 2022 Review

Is Inceptial or Inceptial.com is forex company you can trust?
Is this a forex company you can feel safe depositing and holding your funds with?

Yes and yes.

Inceptial is a trusted company, that helps their traders succeed.

Conclusion: Is Inceptial a scam? Inceptial is not a scam, but a great licensed brand!

If you are looking to open an account you can use this secure link: https://inceptial.com/