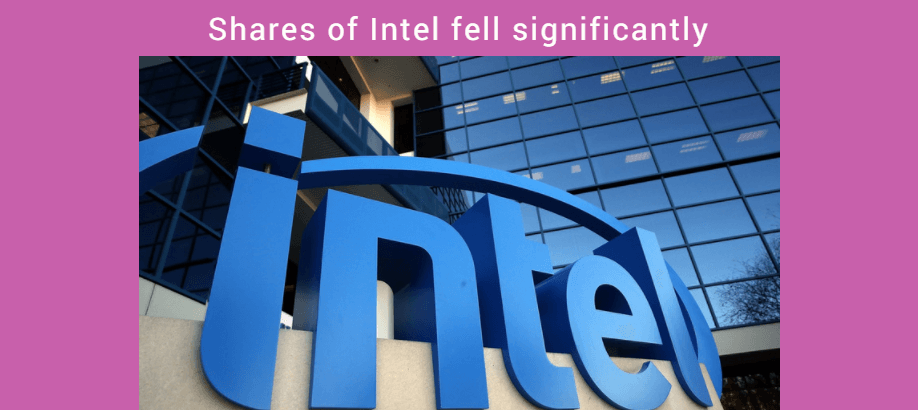 Shares of Intel fell significantly
There are certain systemic changes in American stock exchange. At the beginning of 2018 we observed a decline in the price of the dollar for which central banks intend to tight the terms for loans to Americans. From 5 to 6 January there was literally collapse which was not happen for many years – shares of Intel fell by as much as 3.8%. At first glance, this is a small percentage, but it made a result of millions dollars loss.
Intel shares. An interesting fact
The maximum share price was in 2015 when the net income of the company was $ 14.9 billion. Employees of the company received a huge salary, some got about 107 thousand dollars. Intel is quite a large corporation but it can not overtake such giants as Microsoft and Apple. Perhaps this is related to the advertising indicator since we hear about this company only when we turn on our computer. It started working in 1968, this is a long time of "keeping afloat." Regarding the shares of Intel, they have always been stable income. Therefore, traders include this company on their list of chosen shares.
The main reason for the vulnerability of Intel shares
Google Zero project was created to find the vulnerability of Intel's AMD, ARM. The vulnerability of the company was known as early as 2017 on July 1. But information about this was officially published in half a year. Problems in the system can lead to a total depreciation of Intel's shares, which is why a commission was trying to find vulnerabilities in computer microprocessors. If the problem of the system is not detected in time, this will lead to a complete leakage of confidential data.
The experts' opinion about the future of corporation Intel
Today the company has some difficulties due to its safety. It is necessary to admit the fact that Intel talks about its problems directly and thereby helps to protect the company's assets. Trading on the stock market is very convenient because at any time you can easily sell shares and stay with a decent amount of profit. Much is changing on the financial markets. Experts say about a soon "recovery" because the solution to the problem has already been found. The developers of the company are working hard to eliminate problems. Several months from now until the end of June 2018 you can safely make money on shares of Intel. How to do it – our experts will answer. There is a free consultation on the site.